High Net Worth Shoppers are Spending Overseas Again
EXCLUSIVE INSIGHTS
Revealing the Resurgence: Key Insights on May Holiday Travel
China's recovery from the Covid-19 pandemic has brought about a resurgence in travel, making it essential to prepare for the influx of Chinese travelers in Q3 and Q4. The May Holiday, April 29- May 3, provided an opportunity for Chinese citizens to venture out again. This led to a surge in travel and spending, indicating a strong desire among Chinese citizens to explore new destinations and experiences. Here are some key insights to consider:
Exceeding Pre-Pandemic Levels: May holiday spending and travel in China surpassed pre-pandemic levels, and had a 129% YoY increase in domestic tourism revenue reported by the Ministry of Tourism and Culture, indicating a strong recovery in the tourism market.
High Net Worth Consumers are Spending Overseas Again: Reuters reported that while limited flights and higher prices impacted passenger volume on international trips, luxury shoppers traveling to Europe are spending more than ever before.
Asia Travel Dominates: Chinese travelers are primarily focused on destinations in Asia, mainly Hong Kong, Macau, Singapore, and Bangkok due to limited international flight options and ticket prices 80% more expensive than pre-pandemic levels as reported by trip.com.
To tap into the resurgence of Chinese travelers, don't miss the chance to book a strategy session with CLA. Gain invaluable insights into the latest trends among Chinese consumers, discover how to gain a competitive advantage, and explore how CLA can assist your brand in preparing for the Chinese traveler. Act now to secure your session and ensure your brand's success in the evolving travel landscape.
---
NEWS ROUNDUP
Outlook for China Tourism


Light at the End of the Tunnel
China is now removing travel restrictions rapidly, both domestically and internationally. While the sudden opening may lead to uncertainty and hesitancy to travel in the short term, Chinese tourists still express a strong desire to travel. And the recent removal of quarantine requirements in January 2023 could usher in a renewed demand for trips abroad.
Domestically, there are already signs of strong travel recovery. The recent Chinese New Year holidays saw 308 million domestic trips, generating almost RMB 376 billion in tourism revenue. This upswing indicates that domestic travel volume has recovered to 90 percent of 2019 figures, and spending has bounced back to around 70 percent of pre-pandemic levels.
This article paints a picture of Chinese travelers and their evolving spending behaviors and preferences—and suggests measures that tourism service providers and destinations could take to prepare for their imminent return. The analyses draw on the findings of McKinsey's latest Survey of Chinese Tourist Attitudes, and compare the results across six waves of surveys conducted between April 2020 and November 2022, along with consumer sentiment research and recent travel data.
---
May Labor Day Travel Booms


'This May Day is crazy': China's holiday spending exceeds pre-pandemic levels for the first time
Holiday spending duringChina's Golden Week has surged past pre-pandemic levels for the first time in three years, ina sign the country's travelers have fully emerged from the depths of Covid-related restrictions and are eager to live large to make up for lost time.
For many, this May Day period, spanning five days from April 29 to May 3, was the first chance to go on vacation in more than three years, without having to worry about catching Covid. During the Chinese New Year holiday in January, many people stayed home because of fears of infection during China's "exit wave" when an unknown number of people caught the disease.
Travelers made 274 million trips within mainland China during the holiday, up 71% from a year ago and 19% higher than 2019, according to data from the Ministry of Culture and Tourism on Wednesday. Revenue from domestic tourism reached 148 billion yuan ($21 billion), up 129% from a year earlier and also slightly higher than 2019.
---
Big Spenders


Fewer luxury shoppers but bigger spenders as Chinese return to Europe
China's five-day Labour Day holiday in early May was once a good excuse for a quick European jaunt – with a side of luxury shopping on the agenda.
But with flights remaining limited after China's border reopening in January, European luxury stores will need to wait longer for the return of masses of tourists they once depended on for growth.
That may matter less to the bottom line of luxury firms than previously thought, although brands and investors are struggling to get a handle on the Chinese consumer recovery as domestic and overseas shopping habits shift after three unusual pandemic-hit years.
When it comes to high-end shopping overseas, retail industry executives and analysts say it may be more important to consider the type of Chinese visitors to Europe rather than just the numbers.
Air ticket prices from China to Europe are up to 80% more expensive than pre-pandemic, according to travel data firm ForwardKeys, and the number of travellers over the May holiday period was 64% lower than in 2019.
---
Where are Chinese Travelers Going Internationally?


2023 Labor Day Travel in China Recovers to Pre-Pandemic Levels
Outbound travel also recorded a major increase, as travelers were able to leave the country for the first May Day holiday since the start of the pandemic. According to Ctrip data, the overall volume of bookings for outbound travel increased by nearly 700 percent compared with the same period last year, with outbound air ticket and hotel bookings increasing by nearly 900 percent and 450 percent, respectively, compared with the same period in 2022.
However, despite the jump in international bookings from 2022, the volume of international flight bookings has yet to recover to pre-pandemic levels. According to Ctrip data, international flights during the Labor Day Holiday reached about 40 percent of the level recorded in 2019, despite search interest increasing by more than 60 percent compared to that same year.
Meanwhile, according to the Chinese OTA Tuniu, nearly 30 percent of users that traveled overseas went to Hong Kong and Macau. Other popular locations included Thailand, the Maldives, Singapore, the United Arab Emirates, Egypt, Malaysia, Vietnam, Indonesia, Russia, and Fiji.
---
Tourism Hot Spots

China's May Day Holiday Reveals New Favorite Tourist Destinations
China's domestic tourists are back in full force, journeys undertaken over the May Day holiday show. A record high of 19 million domestic railway trips were made on the first day of the five-day Labor Day holiday, which ends on May 3, and the China State Railway Group expects 120 million domestic railway trips to be made between April 27 and May 4.

Beijing welcomed over 22 million visitors to its 60 key commercial areas, who drove spending on goods up 41.7 percent in the capital. Elsewhere, Hong Kong saw 760,000 visitors over the weekend, while Macau received more than 353,000 visitors from Saturday to Monday.

The second long holiday since the country reopened its borders, this year's May Day holiday saw Chinese consumer demand for travel and consumption surge. According to Alibaba Group's online travel platform Fliggy, bookings for flights, accommodations, group travel items, and tickets to scenic spots surged 1,000 percent compared to the same period last year, surpassing pre-pandemic levels.

Local tourist spots continue to be popular. Macau, for example, ranked as the top destination for Chinese travelers within Asia from April 17 to May 7, with bookings up 11 percent from 2019 versus a 32 percent fall for trips to Hong Kong, according to travel firm ForwardKeys. The rush of visitors is a boon to the Portuguese city keen to diversify its economy beyond gambling.
---
May Holiday X China's Economy


China's holiday tourism rebound to pre-Covid levels boosts outlook
China's tourism rebounded to pre-Covid-19 levels in the May Day holiday as the number of domestic trips rose by more than two-thirds from a year earlier, government data showed on Wednesday, a welcome boost for the world's second-biggest economy.
If sustained, a recovery in the service sector could ease worries that China's post-pandemic economic recovery could soon lose momentum with the property market still soft, its vast manufacturing sector weak and exports facing persistent headwinds.
---
Chinese Tourists on the Move


May Day holiday unleashes tourism frenzy as Chinese tourists throw off the shackles of the Covid-19 era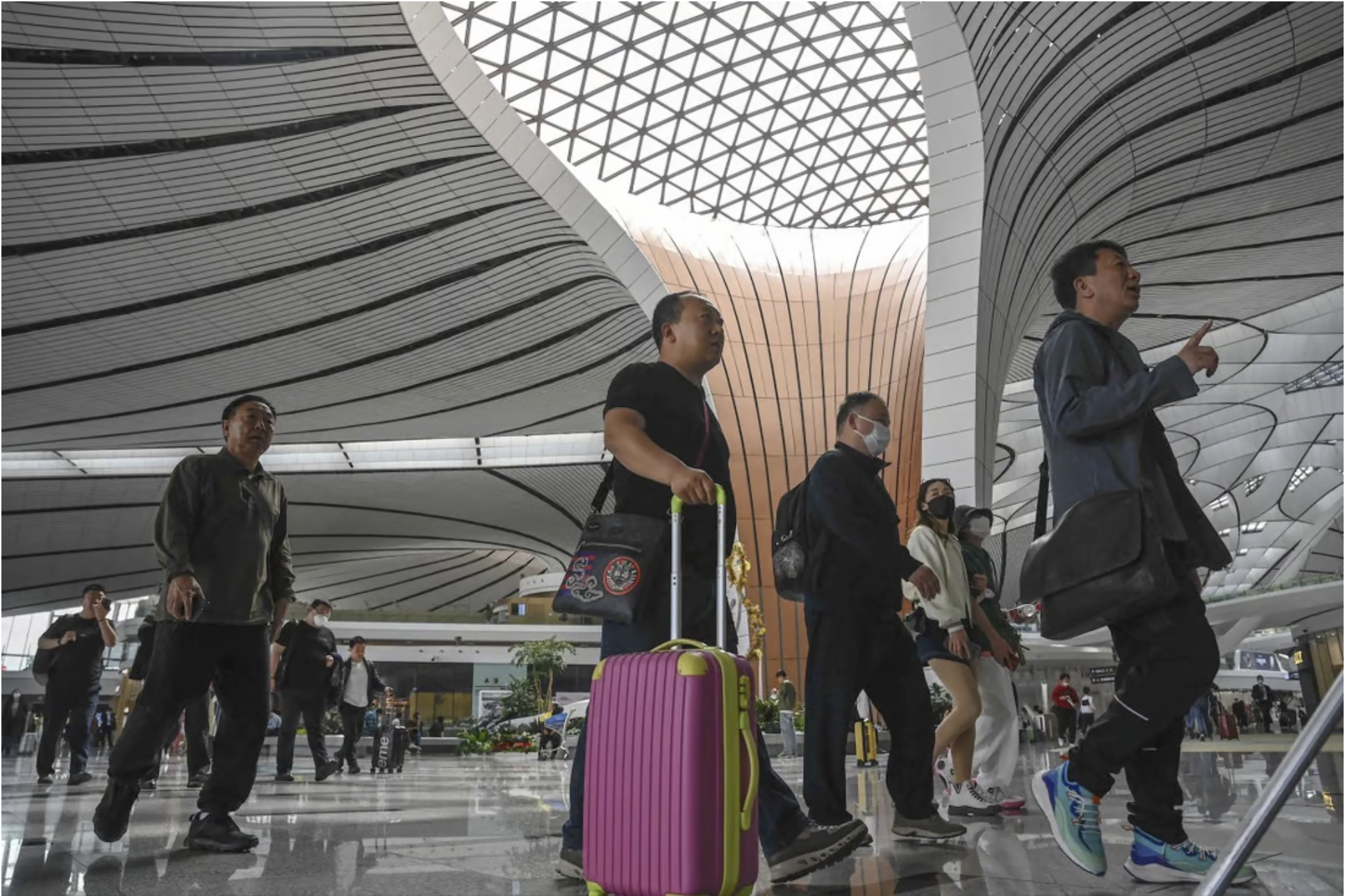 The May Day holiday unleashed a tourism frenzy in mainland China as frustrated travellers cast off the shackles of Covid-19 and flew further afield and in far greater numbers than at any time in the last three years.
The first long national holiday since Beijing abandoned its tough pandemic restrictions saw Chinese tourists flying an average distance of 1,638km, according to travel giant Trip.com Group.
Equivalent to a trip from Shanghai in eastern China to Inner Mogolia's Hohhot, that is by far the highest in the last three years and just 2 per cent shy of 2019, before the novel coronavirus first emerged.
Sales of tickets for overseas flights were eight times higher than during the Labour Day holiday last year, Trip.com data showed. About 70 per cent of those flights were to destinations in Asia, led by Hong Kong, Bangkok, Macau and Singapore.